Mail Order
World Famous Valentino's Pizza Delivered Direct to Your Door!
Even if you don't live near a Valentino's restaurant, you can still get the fresh-baked, authentic taste you crave. Baked fresh from scratch, then fast frozen to ensure that famous, just-from-the-oven, Valentino's taste when you bake it at home.
A note about delivery times to ensure fresh-baked taste!
From the time your order is placed, we require up to 24 hours to make and freeze it. Orders are made on weekdays only (Monday through Friday). Orders placed after 11 a.m. (Central) will not be started until the following weekday. A minimum of 2 items is required on all orders.
To ensure fresh arrival, any order that is not guaranteed delivery by Friday of the same week the order is placed will not be prepared and shipped until Monday of the week following. We do not offer Saturday or Sunday delivery.
SPECIAL VALENTINE'S DAY SHIPPING NOTES
Our Heart-Shaped Pizzas will ship the week of January 30 or the week of February 6 – whichever you choose. If two shipping dates are selected for one order, the earliest shipping date will be used.
We do not offer delivery on the following days:
Saturday – 2/11
Sunday – 2/12
Monday – 2/13
Tuesday – 2/14
To ensure your delivery before Valentine's Day, February 14, please order by these deadlines:
UPS Ground Shipping by 11 a.m., (CST), Monday, 2/6.
3-Day Select Shipping by 11 a.m., (CST), Tuesday, 2/7.
2-Day Air Shipping by 11 a.m., (CST), Wednesday, 2/8.
Next-Day Air Saver Shipping by 11 a.m., (CST), Thursday, 2/9.
Choose from these items:
All orders are shipping in a standard size box. Each single shipping box order typically fits one of the following combinations shipped Ground:
If a heart-shaped pizza is ordered, a shipping box typically fits one of the following combinations shipped Ground:
2 heart-shaped pizzas
2 heart-shaped pizza & 2 regular pizza
2 heart-shaped pizzas & 2 lasagne
6 pizzas
8 lasagne
4 pizzas & 2 lasagne
2 pizzas & 4 lasagne
Purchase up to 7 pizzas per order with 3 Day Select or 2nd Day Air shipping.
Purchase up to 8 pizzas per order with Next Day Air Saver shipping.
For questions about your mail order, please call 402.483.2811, 9 AM – 7 PM Central Time, and ask for the general manager.
---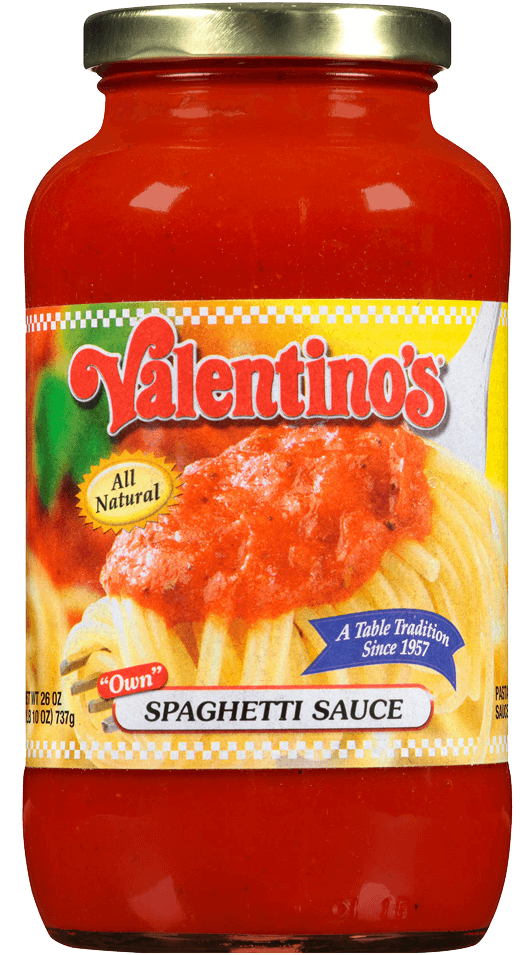 Valentino's Traditional Spaghetti Sauce
Valentino's now offers pasta lovers the homemade sauces they've been savoring since 1957 online. Simply order at Walmart.com. Doing so helps us keep costs low while speeding up delivery and distribution throughout the United States.