Welcome to Valentino's in Bruning
Location offers: Carry-Out | Express Lunch | Catering
---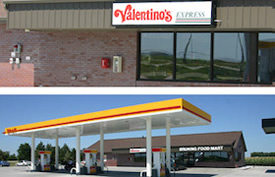 Your Valentino's for Bruning and Geneva – and when you're traveling through Nebraska.
Valentino's Express is a feature of The Bruning Food Mart. We offer in-store dining as well as carryout convenience. All your Valentino's favorites are made fresh daily onsite. We also offer catering for your special events.
Call today to schedule delicious Valentino's pizza and pasta for your next event – or to have your favorites made fresh and ready for you when you stop by.
The Bruning Food Mart offers all the grocery staples you need as well as gas and diesel pumps, and is located on Highway 81 at the Bruning exit between Hebron and Geneva.
 Awards:

Shell Station
Highway 81
Bruning exit
Bruning, Nebraska
Get Directions
Our Hours:
Mon – Thurs 6 am – 8 pm
Fri – Sat 6 am – 9 pm
Sun 7 am – 8 pm
Carry-Out Menu